Tombstone Territory was a TV-series of 3 seasons that ran from 1957 to 1960.
The boom town of Tombstone, Arizona Territory, one of the Old West's most notorious frontier towns and the site of the shootout, the Gunfight at the O.K. Corral. Located south of Tucson, Tombstone was then known by the sobriquet, "the town too tough to die." Local lawman was Sheriff Clay Hollister. - Source: Wikipedia.org
Each episode is narrated by the (fictitious) editor of the Tombstone Epitaph, an actual Tombstone Newspaper. Throughout most episodes, the editor gives several dates on which events occurred. He also narrates the "title sequence" as follows: "An actual account from the pages of my newspaper, the Tombstone Epitaph. This is the way it happened in the town 'too tough to die'."
Actors appearing in more than 40% of all episodes.
 
The dates listed after each episode are the earliest date given in the episode for the events of the episode. (Many epsodes cover several days, a few cover weeks, but the earliest date given is listed.) 
 
There are no original airdates listed, as various sources show considerably different air dates for many episodes, particularly the later episodes. The show was originally aired beginning in 1956 and ending in 1960. It was aired in syndication (on H&I) as recently as 2017. 
 
Episodes are listed by the episode name on the DVD collection. With minor exceptions, this matches IMDB. The parenthetical references are to titles found in other media, such as Amazon Prime. The DVDs are not broken-up by season; IMDB and Amazon Prime show slightly different season breaks and episode orders; therefore, the list was kept simple and numbered 1-91.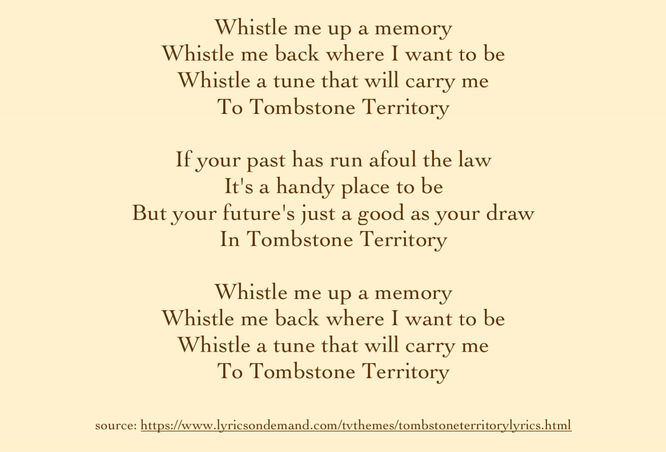 Community content is available under
CC-BY-SA
unless otherwise noted.